This listicle is full of lots of cool 

items and gift ideas for your best friend! 

If 

there's something here you decide y

ou just 

must

 

have

,

 

we've provided links to the product websites. 

 

If you click on the link and make a purchase, 

Beasley Media Group may earn a 

commission.

  

Have

 

an idea for a fun theme for a 

gift idea

 

list you'd like us to create

?  D

rop us a line 

at s

hopping@bbgi.com

.
If you're like us, it's been hard not being able to spend that much need time with our besties.  We are so lucky to have lots of tech to help us stay connected to those special people who know us better than just about anyone.  It's also important to remind our friends how much they mean to us.  Whether with a phone call, a sweet notecard, or a surprise gift, it's always a good idea to tell the people we treasure them.  We've found 11 fun gift ideas for your best friend to remind them how important they are and bring a smile to both of your faces.
Send a little sweetness to your bestie to remind them of all the fun times you've shared.  Who wouldn't want to enjoy a few heart-shaped gummies with a juicy peach center dusted with sweet and sour sugar crystals?  Life is truly sweeter with friends…and of course candy.
Buy them now from Sur La Table.
We can count ourselves lucky if we've found that kindred spirit who has helped make our journey so much lighter.  This is a great gift idea for a special person who is your biggest cheerleader and your northern star. We just love the black diamond-shaped charm that includes the mantra "soul sisters."
You can order these now from AMAZON.
I'll tell you what want you, what you really, really want to give your bestie…this collection of iconic quotes from The Spice Girls.  These ladies reminded us how much fun we can have with our friends and, most importantly, girl power. 
Get it from IWOOT.
Available in two sizes this super cute tote bag helps carry the load for your buddy while also reminding them of their superpower. Each bag is laminated and water resistant giving them much more functionality. Maybe pick one up for yourself and you both can flex your girl power muscles.
Buy it now on TheLittleMarket.com
This is a gift that will keep on giving. Each time your bestie sees it hanging in their home or office they'll be reminded of their true value and importance. The "Know Your Worth" inspirational canvas art by Ikonick is available in four (4) sizes and can come framed or unframed.
Check it out on IKONICK.com.
These adorable bobby pins can be a sweet reminder to your friend that, when the situation calls for it, you'd be there to hold her hair. That's how good of a friend you are! From the team at Pretty Party, they come in gold or silver and are a gift with buzz.
Get them from Pretty Party.
If hanging out and sharing a bottle of wine is how you and your friends make memories, this gift box could be the perfect choice. From the oh-so-cute Wine Tumbler to the matching Bottle Opener and Bottle Stopper, this cute little gift box is packed with fun. 
Buy it now on AMAZON.
How many times have you and your best friend lamented about situations where you hoped karma would catch up? This beautiful 18" sterling silver necklace from Silpada might be a nice reminder of what goes around comes around.
Order it now on Silpada.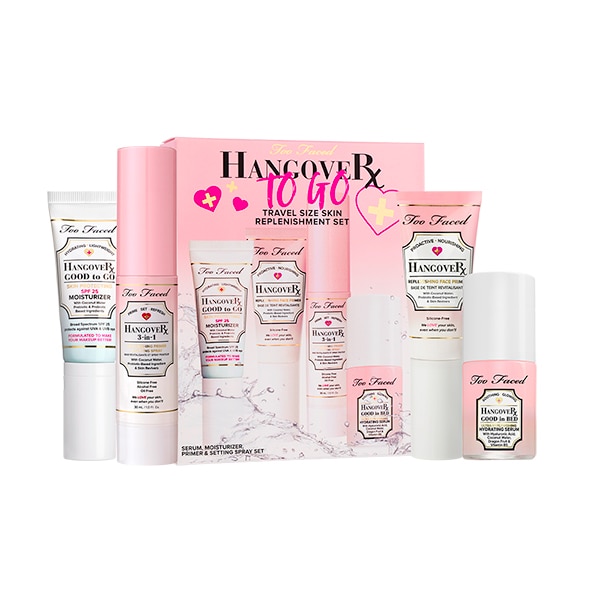 So you and your bestie like to party but the morning afters aren't as easy as they used to be. Too Faced Hangover To Go travel size skin replenishment set could have you both looking marvelous and ready for a second night of fun.
Buy it now from TooFaced Cosmetics.
Even during a pandemic, you and your friends are busting a move and making things happen. OK, so you may all be completely exhausted, but this can put all your worries in this cute canvas pouch and reminder yourself all the hard work will pay off.  And why not make a bold statement all while staying organized?
Purchase it now from Mure + Grand.
This little gift will help put a smile on the face of your friend each time she uses it. It's a fun way to remind your besties to just laugh at whatever the world throws her. It's amazing what a simple 10oz mug can do to brighten someone's day.
Order it now from IWOOT.
Whether it's for a birthday or a "friendaversary" we know that everything now and then you need some gift ideas for your best friend. We wish you and your bestie many great times ahead. Don't forget to remind them often how wonderful they are and maybe even sing them a couple of lyrics from the song "That's What Friends Are For" just for fun.
Please note that items are in 

stock

 and prices are 

accurate

 at the time we published this list.

 

Have an idea for a fun theme for a gift idea list you'd like us to create?  Drop us a line 

at s

hopping@bbgi.com

.
Sign me up for the Kiss 95.1 email newsletter!
Make sure you're not missing out on anything at Kiss 95.1 and become an exclusive VIP member. Enjoy all the perks and get exclusive insight into music news, contests, and more!
By clicking "Subscribe" I agree to the website's terms of Service and Privacy Policy. I understand I can unsubscribe at any time.