Ever since I was little, this cake was a special part of our Christmas.  We always made it on Christmas Eve and sliced up a big piece to leave for Santa.  My job as a child was to help "swirl" the cinnamon/sugar mixture through the batter to give the cake the signature look it's named for.  It's super easy, and the warm cinnamon flavor just brings back great memories and reminds me of the holidays.
All the good stuff…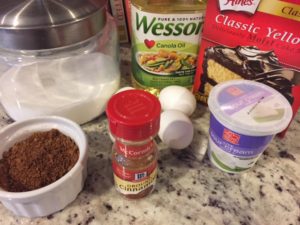 Into a bowl they go…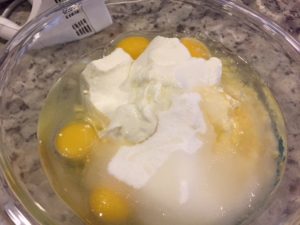 Half the batter and cinnamon sugar goodness…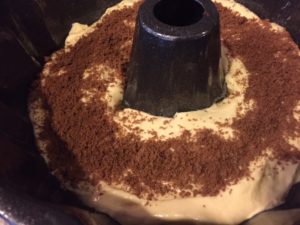 Your tool for swirling…the trusty dinner knife…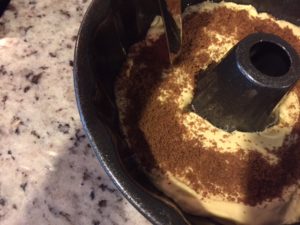 And we swirl…fill and repeat…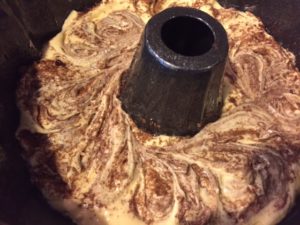 Out of the oven to cool!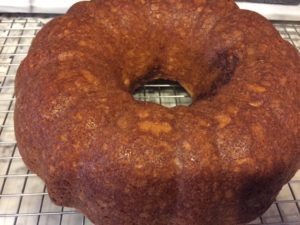 The glaze…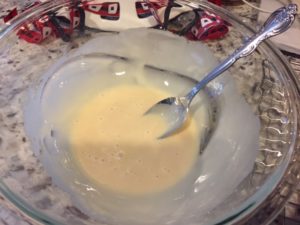 Wow…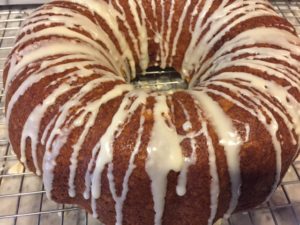 Calling Santa!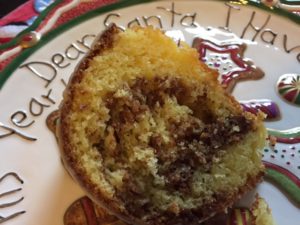 Ingredients
box of yellow or French vanilla cake mix
8 oz. sour cream
4 eggs
1/2 cup vegetable or canola oil
1/2 cup sugar
Filling ingredients
3 Tablespoons brown sugar
1 Tablespoon cinnamon
Glaze ingredients
1 cup powdered sugar
1 Tablespoon evaporated milk (or 2 pods of non refrigerated french vanilla coffee creamer.  If using this, omit th vanilla extract)
1 teaspoon vanilla
water to thin if necessary
Blend together and drizzle over cooled cake.  Mine was a little thick, so I added a small amount of water to reach desired consistency.
Directions
Mix filling ingredients together in small bowl and set aside.  Blend cake ingredients together in large bowl with a hand mixer.  Pour half of cake mixture into a greased and floured bundt pan.  Or just spray the pan generously with cooking spray.  Sprinkle filling mixture over the mixture in the pan and swirl gently in a figure 8 motion with a dinner knife.  Pour the other half of cake mixture on top and swirl gently again.  Bake at 350 for about 35 minutes.  Cool in the pan for 10 minutes.  Remove cake from pan and allow to cool before drizzling with glaze.