It wouldn't be Thanksgiving without this yummy cake on our dessert table.
I started making this many years ago when our son was little.  He loved it so much that I continued to make it at his request every year.  It is so moist and delicious with just the perfect, yet not overwhelming,  pumpkin flavor.  It smells and tastes like the holidays in every way.
I usually make it ahead of time and freeze until Thanksgiving.  You can thaw it in the fridge the day before, and it will be just as amazing as if you baked it that same day.  The convenience of being able to make it ahead is just one of the things I love about it.  And, by the way, it's wonderful warmed in the microwave and served in the morning with coffee!
Gather all the good stuff…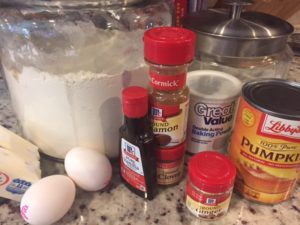 Combine dry ingredients…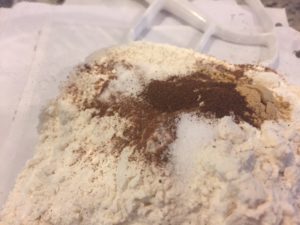 Action shot…butter and sugar…oh my!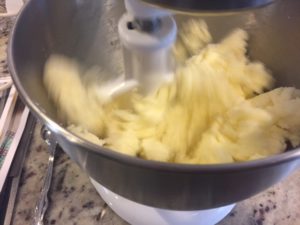 And then there was pumpkin…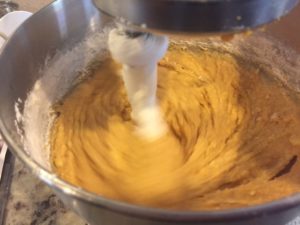 Oven ready…and we wait…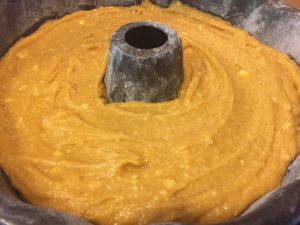 About 50-55 minutes later…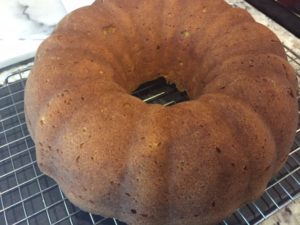 Happy Thanksgiving!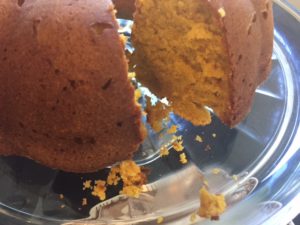 Ingredients
1 1/2 cups butter, softened
2 3/4 cups sugar
6 eggs
1 tsp. vanilla extract
3 cups all purpose flour
3/4 tsp. ground cinnamon
1/2 tsp. baking powder
1/2 tsp. salt
1/2 tsp. ground ginger
1/4 tsp. ground cloves
1 cup canned pumpkin
Directions
In a mixing bowl cream the butter and sugar.  Add the eggs one at a time, continuing to beat after each.  Combine dry ingredients in another bowl and then add them to the creamed mixture, alternating with pumpkin beating just until combined.  Pour into a greased and floured bundt pan.  Bake at 350 for just under an hour, until toothpick inserted near the center comes out clean.  Cool in pan for 10-15 minutes, and then carefully remove to finish cooling.