A dear friend who loves Halloween as much as I do shared this yummy recipe with me.  It's really very simple, and it just embodies all the flavors of fall.  It never disappoints, and every time I make it I get requests for the recipe.   I've even pre-measured the ingredients and packaged them up in a kit to pass along as a gift to my friends who don't really want to spend a lot of time in the kitchen…but they want the reward!  It's a little bit of pay it forward to show my non-cooking friends just how easy it can be…makes a great gift that's truly appreciated.  And, they can have the aroma of fresh, home-baked muffins in their kitchen and take all the credit!  This recipe uses several ingredients that are meant to be on the healthier side…however, if you don't want to buy special ingredients you might not have on hand…it's totally fine to use what you have.  For example, 1/2 cup egg substitute can just be 2 regular eggs instead.  You can use regular buttermilk…I sometimes can't find fat free.  If you don't want to buy buttermilk…just measure out the correct amount of whatever type milk you have in your fridge and add a teaspoon of vinegar or lemon juice to it.  Let it sit for a few minutes, and you will have buttermilk.  The buttermilk or equivalent really makes for a tender muffin…so don't skip that!  And, if you have vegetable oil instead of canola, that's fine.
Simple ingredients…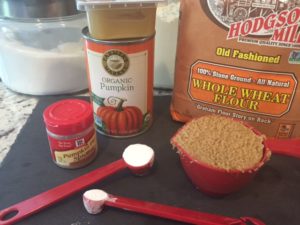 Combine ingredients through salt…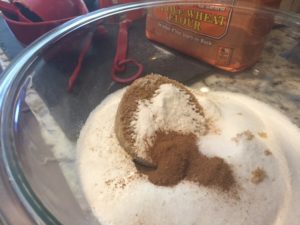 Combine pumpkin through applesauce…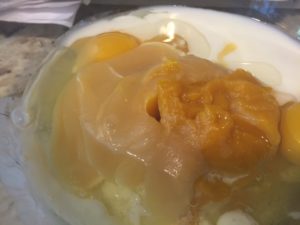 Add the pumpkin mixture to the flour mixture and stir to combine…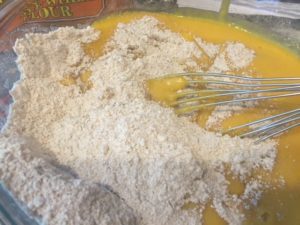 Spoon evenly into 16 muffin cups…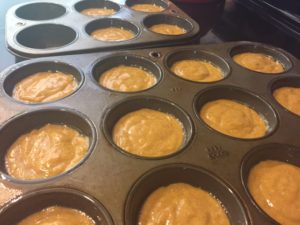 And…between 15 and 20 minutes later they looked like this!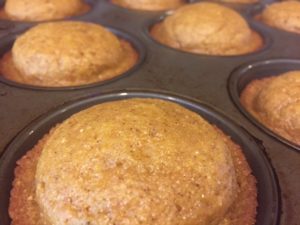 Warm pumpkin goodness…always better with butter!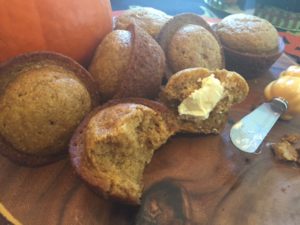 Ingredients
1 cup all purpose flour
1/2 cup whole wheat flour
1/2 cup sugar
1/2 cup packed brown sugar
1 1/4 teaspoons pumpkin pie spice
1 teaspoon baking soda
1/4 teaspoon baking powder
1/4 teaspoon salt
1 cup canned pumpkin
1/2 cup fat-free buttermilk (or make your own, see above)
1/2 cup egg substitute (or 2 whole eggs)
1/4 cup canola oil (or vegetable oil)
1/4 cup applesauce
Directions
Preheat oven to 375.  Lightly spoon flours into dry measuring cups; level with a knife.  Combine flours, granulated sugar, and next 5 ingredients (through salt) in a large bowl, stirring with a whisk.  Combine pumpkin and the next 4 ingredients (through applesauce) in a medium bowl, stirring with a whisk.  Add pumpkin mixture to flour mixture, stirring just until moist.  Spoon batter into 16 muffin cups coated with cooking spray.  Bake at 375 for 15-20 minutes or until muffins spring back when touched lightly in center or a pick comes out clean.   Cool muffins in pans 5 minutes on a wire rack; remove from pans.  Cool completely on a wire rack.