I love sweet potatoes, and fortunately, my family is on board also.  It's probably one of the few things resembling a vegetable that I can get my son to eat.  Several years ago, I ran across a recipe for "fries" that you bake in the oven.  I played with the seasonings and cooking times, and this is the result.  I must have made hundreds of batches of these for a side dish or tasty snack.  I love that they aren't so heavy and greasy from frying.  We enjoy them year round…but they seem especially appropriate with their beautiful orange color this time of year!
Toss the fries with olive oil and seasonings…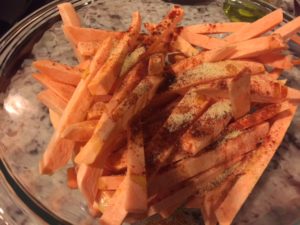 Spread into a single layer on baking pan, turning halfway through baking…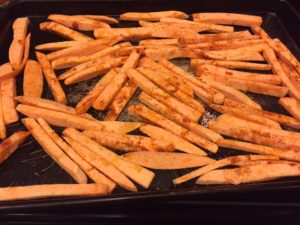 Out of the oven…tender and flavorful…adjust seasonings…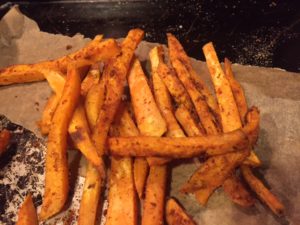 Serve with ketchup…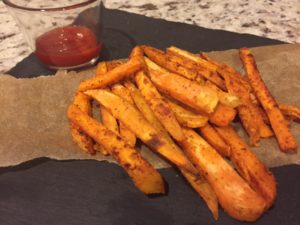 And they're good with a sprinkle of parmesan right out of the oven so they gelt melty and yummy!  It gives a great layer of salty flavor!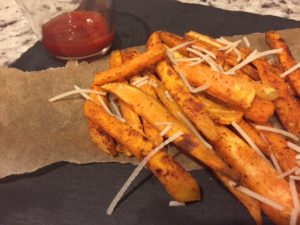 Ingredients
2-3 medium size sweet potatoes
paprika
garlic powder
season salt
cayenne
parmesan cheese
olive oil
Directions
Preheat oven to 425.  Peel sweet potatoes, and cut them lengthwise into strips…french fries.  Try to keep them similar in thickness so they will cook evenly.  They won't be perfect…but it's fine.  Place them in a large bowl and drizzle a teaspoon or two of olive oil on them.  Toss to coat.  Sprinkle paprika, salt, cayenne on the fries and toss to coat.  It's really a matter of taste as to how much of each seasoning you'll use.  Start with a few sprinkles, and you can adjust to your liking.  I usually end up seasoning throughout the cooking process, and after they're out of the oven.  Spread the fries out on a jelly roll pan and place in preheated oven.  Make sure they are in one layer.  Bake for about 12 minutes.  Take out of oven and flip the fries.  You can sprinkle a little more seasoning on at this point.  Back in the oven for about 10 more minutes or until tender.  Remove from oven and taste for seasoning.  Add more if needed.  Then, sprinkle on parmesan cheese, if desired, and toss with warm potatoes.