In 2002 our little family moved near Birmingham to Hoover, Alabama to start a new job.  And one Halloween our new neighbors and soon-to-be life long friends, Keith and Amy,  shared this amazing taco soup recipe.
We devoured many a pot of it before trick-or-treating with our toddlers year after year, and there are many happy memories connected to this simple soup that brought our families together.  And, in a crazy plot twist, their family moved to Charlotte shortly after we did!  And although our kids are all nearly out of high school now, we can still enjoy a big bowl of taco soup even if there's no door to door candy grab involved anymore.  Insert mommy sad face here.  LOL.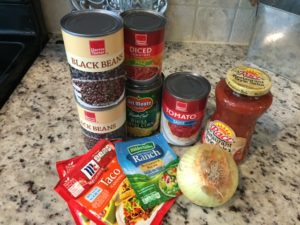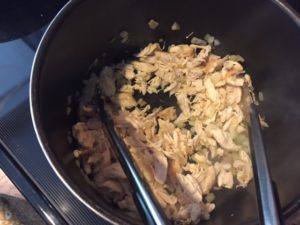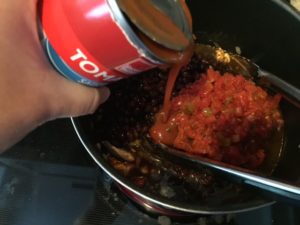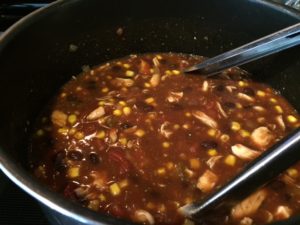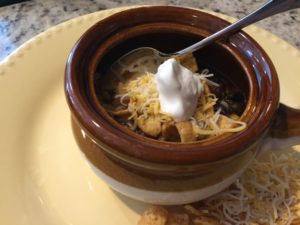 Ingredients
1 lb. lean ground beef, ground turkey or leftover shredded chicken breast
1 medium onion, chopped
1  pkg. Hidden Valley Ranch dressing
2 pkgs. taco seasoning
2 cans black beans
1 can Rotel tomatoes
1 (15 oz) can tomato sauce
1/2 jar salsa or picante sauce
1 (15 oz) can whole kernel corn
1 cup water
shredded cheese and corn chips for serving
Directions 
Add a splash of oil to a large pot, and brown the meat and onion if using beef or turkey.  Otherwise, if using precooked chicken, just warm in the pot with the onion and oil until onion starts to soften.  Add 1 pkg taco seasoning.  Then just dump everything else in, using only 1/2 of the second pkg of taco seasoning.  No need to even drain anything…just dump it in!  Bring to a simmer.  Serve with corn chips and top with shredded cheese and sour cream if you like.