We've all had the delicious rice crispy treats a million times.  They are a childhood…and adulthood favorite for sure.  But, when I was in elementary school a 100 years ago, our cafeteria made a similar treat with corn flakes instead of rice cereal and added peanut butter.  They were really tasty, and I always looked forward to their appearance on the divided tray!  Now that the kids are back in school…I thought this would be a nice treat to throw in the lunch box…or to have as a snack after school.  Sooooo easy!
Simple corn flakes…not the frosted kind…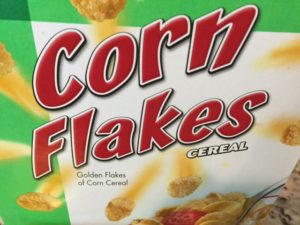 Go ahead and measure out the 6 cups and set aside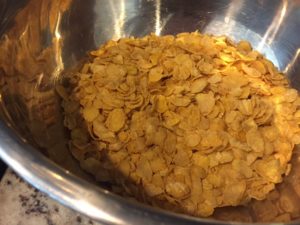 Melt the butter and peanut butter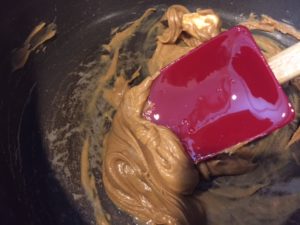 Add in the bag of mini marshmallows, and stir, stir, stir…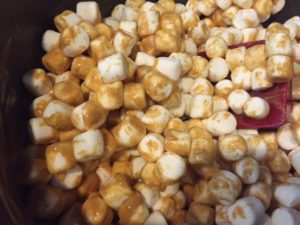 And stir…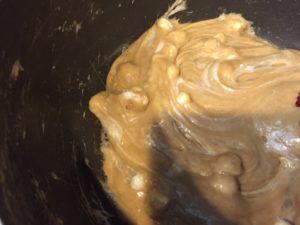 When it's all melted, remove from heat and quickly stir in cereal…and pour and spread onto a parchment lined sheet sprayed with cooking spray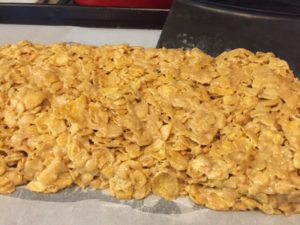 I spray my hands with cooking spray and form the treats into a rectangle. I use a pastry scraper to make straighter edges.  Allow them to cool for about 20 minutes…til firm.  Then I use that same scraper to just slice through and cut them into squares.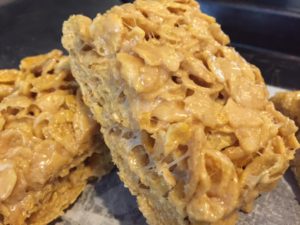 Ingredients
6 cups corn flakes
1/4 cup plus a heaping spoonful of peanut butter
3 T butter
1 10.5 oz. bag of mini marshmallows
Directions
Measure out the cereal and set aside.  Spray a jelly roll pan with spray.  Place a piece of parchment paper on top and spray the paper.  In a large pan, melt the butter and peanut butter.  Stir in the marshmallows with a spatula that's been sprayed with cooking spray.  Stir constantly until melted.  Remove from heat and quickly add the cereal.  Stir until combined.  Quickly pour onto prepared pan and use your clean hands that have been sprayed with cooking spray to form into a rectangle about 1/2 in. thick.  Allow to cool before cutting into squares.