Summer is a time of getting together with family and friends.  You can't show up to any gathering empty-handed. It's hot outside…so we need something cool and refreshing. 
These Watermelon Bites have the perfect combo of cool sweetness from the fruit, tang from the feta and fresh finish thanks to a sprinkling of mint.  They work for an app, side dish or even a dessert.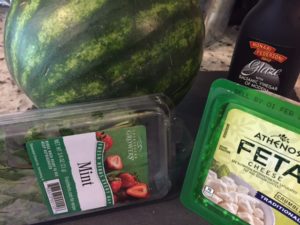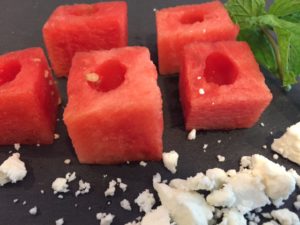 You'll need to scoop out a "well" to fill with the cheese and mint mixture.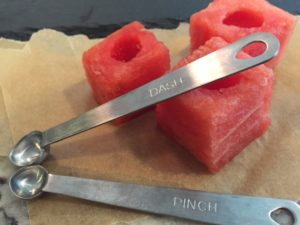 For this, I use these cute little spoons I got in a set one time…they're for a "dash" or a "pinch".  Cute, right?  No worries if you don't have these…just use the end of a metal teaspoon.  Just make sure you don't go all the way through the melon cube.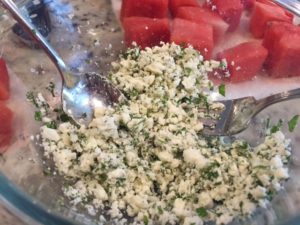 Now for the filling…I use a 4 ounce container of crumbled feta cheese.  Although it is already crumbled, there tend to be larger chunks that I need to break up so it will be easier to stuff inside the melon.  You can use the tines of a fork to break it up.  Chop up about 4 tablespoons of fresh mint really finely and mix it in with the cheese.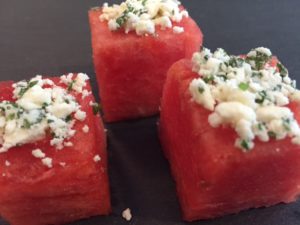 Then you're ready to stuff the wells of the cubes!  And that's it.  If you plan to use the glaze, I would simply take that along separately and add it at the last minute…or let guests decide if they want to drizzle it on or have them plain.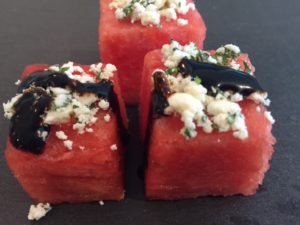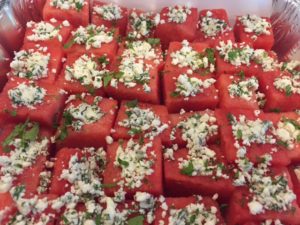 Ingredients
1 small watermelon
4 ounce container of crumbled feta cheese
4 T chopped fresh mint
<li>balsamic glaze for drizzling
Directions
Cut a small watermelon into bite-sized cubes.  Using the end of a small spoon, scoop out a well from each cube and set aside.  Meanwhile, stir together the feta and mint, breaking up any large chunks with a fork.  Using the same small spoon, fill each well with the cheese and mint mixture.  Store in fridge covered until serving time.  Optional:  Drizzle a bit of balsamic glaze on each cube just before serving.